Sports
Premiership Semifinals: Bristol Bears 36-43 Harlequins (AET)-Quin reaches Twickenham after a spectacular counterattack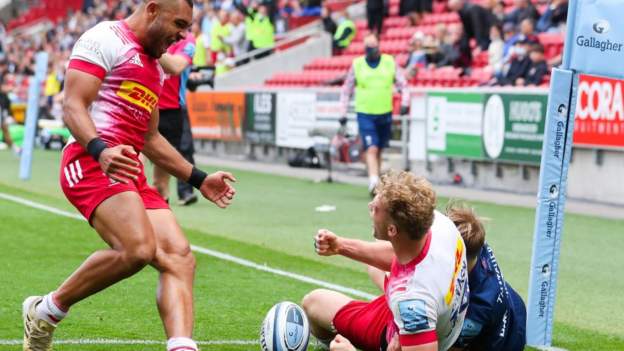 Bristol Bears (28) 36
Trial:
Earl, Marines 2, Morahan, Randall
Cons: Disadvantages:
Seedy
pen:
Seedy 3
Harlequin (5) 43
Trial:
Dombrandt, Green 2, Chisholm, Lynagh, Marchant 2
Cons: Disadvantages:
Smith 4
Harlequins defeated Bristol at the end of overtime and made a thrilling counterattack to reach the Premiership playoff finals.
Attempts from Max Malins (2), Ben Earl and Luke Morahan raised Bristol 28-0 before Alex Donbrand responded with a half-time stroke.
Tyronne Green, James Chisam and Louis Rina quickly narrowed the gap to 28-24, and Joe Marchant's second half attempt sent the game extra time 31-31.
Green and Merchant won a remarkable victory by attempting either side of Malins' third seal.
Bristol broke through the table from the sixth round to the end of the regular season, looking for a course for his first Premiership final, which led 28-0 38 minutes later.
But with the biggest comeback in Premiership history, Harlequin won a trip to Twickenham next Saturday facing either the Excelter or the Sale.
Yelled at by most of Ashton Gate's 6,000 supporters, Bristol began beating Quinn at a blazing tempo with pace and power, and after two early Callum Sheedy penalties, Earl and Marin crossed the corner. It became 16-0. Only 12 minutes.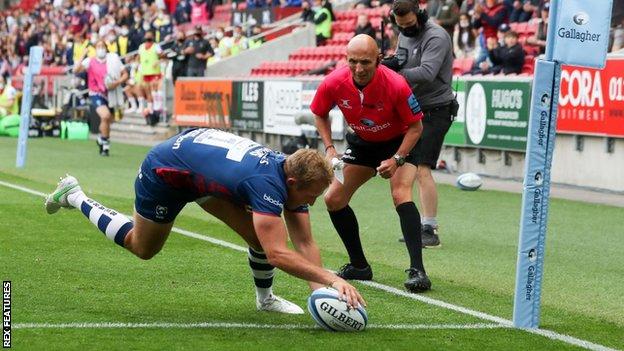 When Nathan Hughes put in Malins to score a simple score in the corner, the stunned Quinns defense remained flatfoot and the wing overhead offload was clear to Morahan for a 28-0 lead. Gave a run.
In the disastrous first half for Quinns, the first playoffs of the seven seasons were pretty unsuccessful, but shortly after knocking just three meters from the line, No. 8 Donbrand used Malins to spill a highball and scoreboard. I put it on.
Quinn's reaction to Billy Millard's half-time team talk was dramatic. A quick ball squeezed the impressive full-back green within 90 seconds of the restart, and Chisholm in the back row plummeted after a while to punish the sloppy play from the host.
After Don Brandt rushed into Ben Tapuai's short pass, he cleared up the liner and scored 24 unanswered points in a breathtaking 15 minutes, reducing the gap to four.
In the despair of Bristol fans, Harry Randall's clever finish was ruled out in a forward pass review by Semiland Ladra, but the Sea Dipenalty returned the lead to 7.
Bears' rest was short, but Reiner was ruled out by TMO after Donbrand was pushed a few centimeters away from the line and Green's scoring pass was previously determined.
Premiership's top scorer Smith was a great late-score architect finished by the merchant, and the 22-year-old Flyhalf stayed calm to put leveling conversions into slots under heavy pressure.
The drama led Harlequins for the first time in a half-time stroke following overtime, as Cedi's penalty hit the post before the green crossed following the penalty scrum.
Bristol looked down, but evoked a great reaction when Malins completed the hat-trick and returned the Bears to 38-36.
However, Harry Soccer's injury reduced Bristol to 13, and visitors took advantage of it when merchants finally solved the problem in 100 minutes of a captivating contest.
Bristol Bears: C Piutau; Morahan, Radradra, S Piutau (co-captain), Malins; Siale, Uren; Y Thomas, Soccer, Sinckler, Atwood, Vie, Ruatua (co-captain), Earl, Hughes.
Replacement: Capon, Woolmore, Afore, Joyce, Heenan, Randall, Lloyd, O'Connor.
Harlequin: Green; Lynagh, Marchant, Tapuai, Morris; Smith, Care; Marler, Baldwin, Louw, Symons, Lewies (capt), Lawday, Kenningham, Dombrandt.
Replacement: Gray, Garcia Botta, Collier, Lamb, J Chisholm, Randaho, Lang, Northmore.
Referee: Wayne Barnes (RFU).
Premiership Semifinals: Bristol Bears 36-43 Harlequins (AET)-Quin reaches Twickenham after a spectacular counterattack
Source link Premiership Semifinals: Bristol Bears 36-43 Harlequins (AET)-Quin reaches Twickenham after a spectacular counterattack